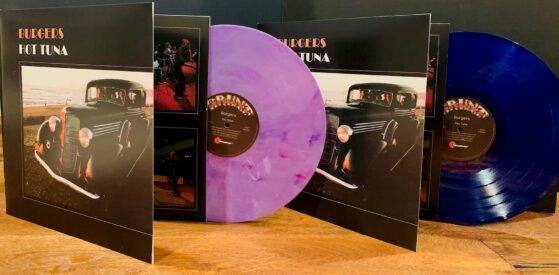 Hot Tuna reissues Burgers!
Pre-Order Hot Tuna's 1972 Classic Burgers On 180-gram Translucent Blue Or Purple Swirl Vinyl!  In-Stores February 28th!
The legendary Bay area rock superstars Hot Tuna have continually scored now for almost five decades a plethora of wonderful recordings throughout their incredible career. At first an experimental side project during their tenure with Jefferson Airplane, co-founders Jorma Kaukonen and Jack Casady soon created a full time Hot Tuna, giving the music world a whole new approach to blues, country blues, gospel, jazz fusion, and all things rock with their magnificent artistry and musicianship which is unparalleled to this day.
Celebrating their phenomenal 1972 timeless masterwork, Burgers will be released for the first time ever on 180-gram translucent blue vinyl and purple swirl vinyl.  These releases feature painstakingly recreated original gatefold cover art with brand new liner notes by Hot Tuna founders Jorma Kaukonen and Jack Casady.  Impeccably mastered from the original Grunt tapes, Burgers includes the classic tracks, "Water Song," "Keep On Truckin,'" "99 Year Blues,"  and "Highway Song" featuring special guest David Crosby.